vehicle type
age
environment
ATMOSPHERE
Soar to new heights with the Air Hogs Atmosphere! This powerful levitating sphere requires no remote control and hovers above any surface! Its spherical shape allows the Atmosphere to smoothly bounce off walls and ceilings for non-stop flight. You are the controller with the high-tech hovering power of the Air Hogs Atmosphere!
available colors
vehicle
features
Complete with palm-sized charging cradle
Easy to use and recharge
Built in LEDs respond to changes in elevation
Smoothly bounces of walls and ceilings
vehicle
callouts
reviews
"Flight takes on a new shape with the Air Hogs RC Atmosphere. As its name suggests, the new flyer from Spin Master trades typical toy airplane designs for a unique, spherical form."
Jordan Minor,
PC Mag
"Kids will like the technology that allows them to control the AtmoSphere with their hands.

Its spherical shape allows it to smoothly bounce off walls and ceilings for non-stop flight. Complete with a palm-sized charging cradle, the AtmoSphere is easy to use and recharge."
Jim,
timetoplaymag.com
tips & tricks
1
Learn how to get the best flights with your Air Hogs Atmosphere! This video Includes help with setup, charging, launching, and some extra tips.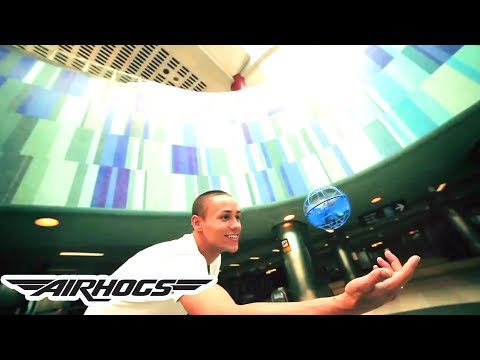 2
Keep your fingers and all other objects out of the Atmosphere. You risk damaging the propeller and/or fly bar if they come into contact with an object while spinning.
3
The charging base can also be used to deactivate your Atmosphere if it ever gets out of control. Keep the charge base nearby (or in your other hand) when playing with the Atmosphere so that you can deactivate it quickly if needed. Deactivating a runaway Atmosphere will keep it from flying into objects and damaging it.
4
When handling the Atmosphere, always hold it from the bottom and avoid using excessive force. Bending the protective cage on your Atmosphere can damage the propellers and fly bar and can affect flight performance.